Basic Full Forms (बेसिक फुल फॉर्म्स का सटीक जवाब)
Basic Full Forms (Basic Full form in Hindi & English)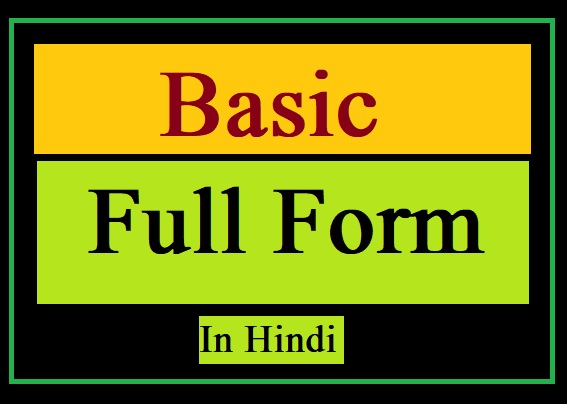 Basic Full Forms
Basic Full Forms: Basic full form is Beginner's All-purpose Symbolic Instruction Code. Basic is one of the simplest and High-Level Computer Programing language, developed by John G. Kemeny and Thomas E. Kurtz at Dartmouth College in the mid-1960s. 
It is simple data structures and interpreted: a BASIC program is translated line-by-line and executed as it was translated, which made it easy to locate programming errors. BASIC program is supported in all operating systems.
To run and use any computer well, custom software is required, which was not easy for any common person to learn. But with the use of Basic Programming Language, the software and programs on the computer became easy for everyone to use. With the help of this, it became easy to create and use custom software on your personal computer.

QuickBasic (QB):
QBasic or  QuickBasic is an easy-to-learn programming language that is ideal for beginners. QBasic or  QuickBasic is based on DOS operating system but is also executable on Windows operating system.

VISUAL BASIC (VB)

Visual Basic (VB) came in 1991 by Microsoft. It was an evolution of QuickBasic including other languages ​​or rather it was updated years of QuickBasic itself which was very useful for other languages ​​as well.

After this Microsoft introduced more compilers such as VBScript in 1996 and Visual Basic .NET in 2001.

VERSIONS:
Earlier versions:
QB64

FreeBASIC

RapidQ

Basic For QT

Gambas
Modern versions:
PureBasic

PowerBASIC

Xojo

Monkey X

True BASIC
We have provided the direct link to the Basic Full Forms List PDF here! Which you can download the full form pdf by clicking on the download link given below! If you have any problem downloading pdf then you can write us in the comment box given below. We will assist you as soon as possible. We would be happy to assist you.

Basic Full forms list:
| Acronym | Full Form |
| --- | --- |
| APJ Abdul Kalam | Avul Pakir Jainulabdeen Abdul Kalam |
| ASAP | As Soon As Possible |
| CFL | Compact fluorescent lamp |
| COO | Chief Operating Officer |
| DSLR | Digital single-lens reflex |
| DSP | Deputy Superintendent of Police |
| F.O.R | Freight on Road |
| IPL | Indian Premier League |
| NCR | National Capital Region |
| PS | Postscript |
| PVC | Poly Vinyl Chloride |
| RDX | Research Department Explosive / Royal Demolition Explosive |
| RPM | Revolutions Per Minute |
| RSVP | Repondez s'il vous plait |
| SDM | Sub Divisional Magistrate |
| SHO | Station House Officer |
| SIT | Special Investigation Team |
| SSB | Service Selection Board |
| VISA | charta visa, lit in Latin |
Basic Full Forms 
Download PDF Now